The first reflective product designed to be applied on your skin.
Thoughtfully formulated with ingredients proven to be safe for use on the skin, our hypoallergenic wax base allows natural perspiration during activity and is both rain and sweat resistant for your longest adventures. It's paraben free, cruelty free, vegan, and made in the USA!
Suitable for use anytime visibility is reduced.
In low light, inclement weather, or on varying terrain, Reflective Skin Spread completely redefines the way visibility feels. From a morning jog to marathon training, or a bicycle commute to an epic cross country brevet, we say 'SWIPE SOME ON!'
Reflective Skin Spread compliments any outfit, so you can keep wearing your favorite brands and styles. And in comparison to traditional reflective garments, bouncing, chafing, irritation, and restriction of movement are now worries of the past. If you have the need for two-wheeled speed, it achieves unmatched aerodynamics and adds zero drag.
The effect - a dynamic visual cue, seen from a distance.
Reflectivity on the arms and/or legs creates a dynamic visual cue, making you more recognizable as human to passing traffic. This biomotion also helps drivers more easily gauge how quickly they're approaching you.
Our all inclusive, one size fits all stick.
No matter the age, shape, or sport, share it with your family, friends, and training partners. Designed for your world travels, our stick achieves ultimate portability with its TSA friendly size. Each stick yields approximately 110 - 6" reflective marks. Applied on either your arms or legs, that's 55 days of unmatched comfort, fashion, and performance in reflectivity!
Apply in areas visible to traffic.
While you may not see it working, as the application is retroreflective (reflects light directly back to its source with a minimum of scattering), the driver and passengers seated behind a vehicle's headlamps will see you brightly.
And, it's not just for athletes!
Reflective Skin Spread enhances artistic expression in film and photography, and is useful in commercial applications like roadside safety and emergency visibility.
DIRECTIONS ON APPLICATION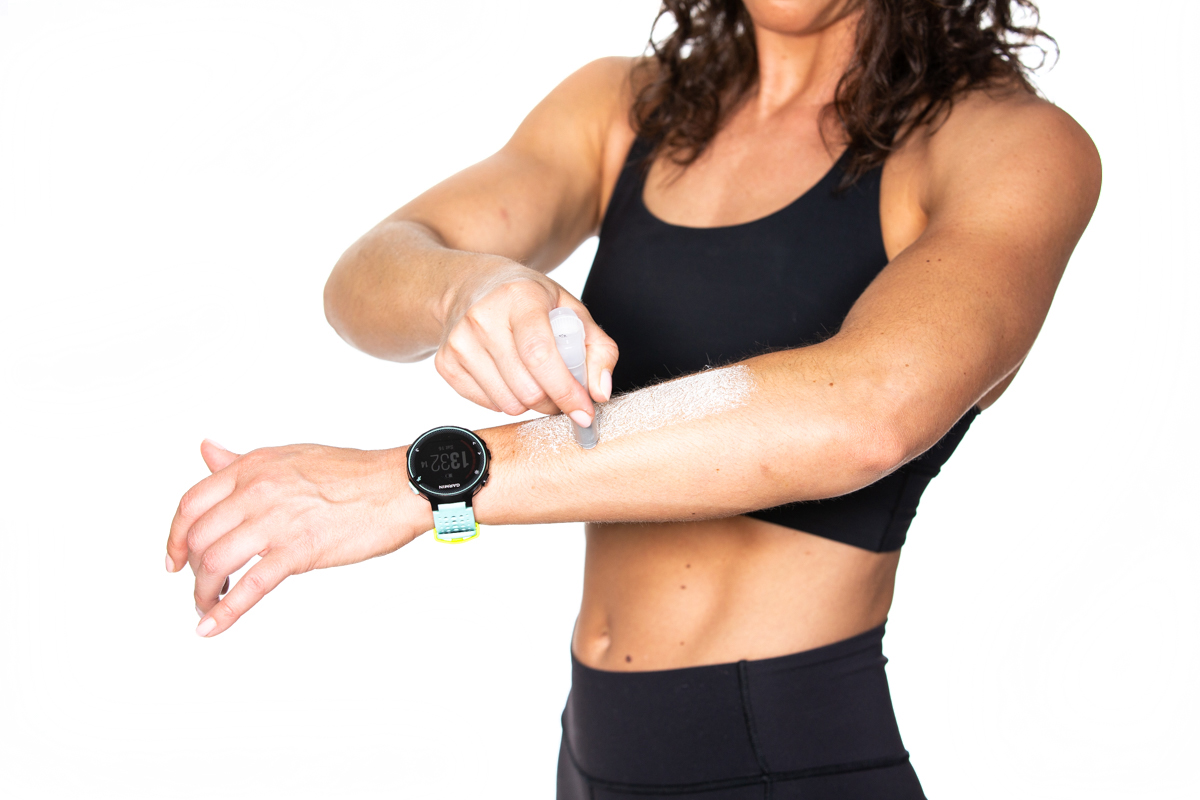 Swipe back and forth until the grey tint of the stick can be seen on your skin. This indicates your application will match the brightness of traditional reflective garments.
*Please note - all waxes harden/soften based on their surrounding environment. As a result, the amount of swipes it may take to see the grey tint of the stick transfer to your skin can vary depending on temperature.
All you will see are a few grey marks where you've applied the product. Take a photograph with flash to reveal your reflectivity, if necessary applying more. Get creative and make your own stencil, pattern, or print! After activity, it removes easily with a household wet wipe, as the rubbing alcohol helps to cut the wax and gather the product, or lathered with soap and water.,